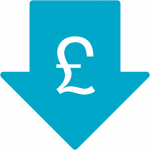 To ensure you and your patients continue to receive the best possible solutions for healing, the most popular sizes of UrgoTul and UrgoTul Absorb Border are now available at a reduced price via NHS Supply Chain, with an average cost saving of 30%.*
If you are interested in including the UrgoTul Range in your formulary, please get in touch for more information. Our Urgo team are available to support you and your Trust to achieve sustainable and cost effective changes, as well as provide training and education.
*Average cost saving across the UrgoTul Range, based on previous NHS Supply Chain pricing.