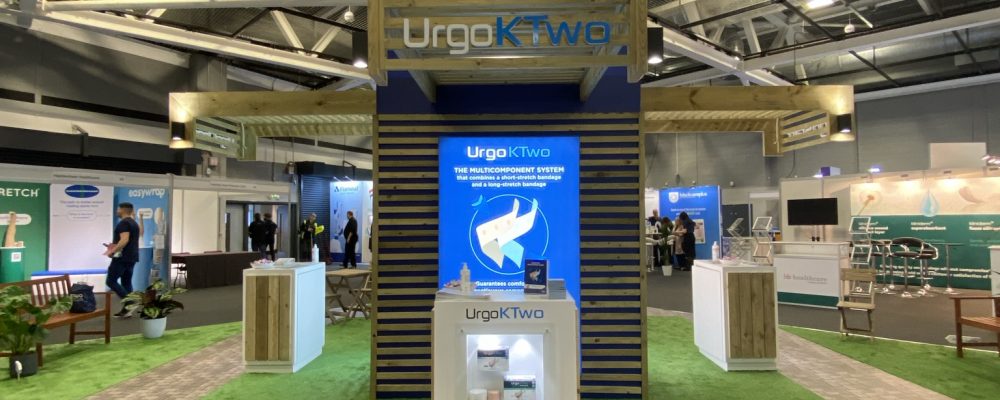 In a difficult year, we have been fortunate enough to have hosted and attended some fantastic events and conferences, reuniting with clinicians and colleagues, as well as getting to know new faces! 
National Events: Wounds UK 2021
Wounds UK 2021 in November is the largest event we attended last year. As well as our main stand (complete with healing garden and barista), we had a secondary hosiery stand (known as the 'shed'!) to showcase our new Measure&Go app. We were also proud to host two symposiums and two 'Made Easy' sessions! 

Speaking to over 120 delegates across the three day conference and having some brilliant conversations about returning patients to healing was great for our team – and our clinicians had a fantastic time too!
"I was so grateful to have the opportunity to attend the Wounds UK conference in Harrogate this year. I really enjoyed networking with like-minded wound-a-holics and lympho-maniacs! To attend real life presentations after the crazy COVID world we have been living in and continue to live in was a real treat. It was great to visit the Urgo stand and understand more about effective treatments for leg ulcers. Friendly staff and the best coffee too! Thank you all at Urgo." 

"I had such a positive experience at my first Wounds UK conference. It has been a tough couple of years and morale has been low but this really lifted my spirits."
Local Events: Pathway Picnics
For one of our teams, supporting local nurses in the launching of a leg ulcer pathway was a priority this year. However, we understand that clinicians' time is precious, and in a busy year wanted to help our nurses to take a break too. Pathway Picnics were a resounding success in combining these needs!
Our team would set up camp in a local park, with a takeaway lunch for nurses and some useful materials to hand out, ready to offer help and support with the pathway launch. 

"I really like that Urgo are trying something different and caring about nurses."
"It's important that nurses think about their mental health and wellbeing, and take a break"
"Really nice that you are trying to see nurses in a safe and respectful way."
Virtual Events: Urgo Academy Northern Ireland
Our Northern Ireland team led a successful series of virtual academies for nurses focusing on when and where to use Urgo healing solutions to provide the best results for patients. Over 100 nurses attended each session, earning CPD certificates to include in their professional portfolios. 

"Many thanks for the online study session this evening – it was very informative and delivered with a very 'common sense' approach which is very helpful for me in the treatment room setting."
"Another great presentation last night! Let's arrange a Lunch and Learn for a demo on UrgoKTwo sometime soon."
"Please sign me up for the next session! I am thoroughly enjoying the sessions so far, I feel like I've learned so much."
"Great results with UrgoClean!  Session helped me work out where and when to use it." 
"I have been working as a nurse over 40 years. I love wound care and update my knowledge and skill as often as have an opportunity. The past year I had a privilege to attend online trainings from Urgo Medical, many sessions through the year. Each session given me new knowledge, updated my previous experience. I was on the way to leave community from many reasons, but since I started using Urgo products, I achieved extraordinary results in wound healing. That keeps me working for my lovely patients in the community as they deserve the best care. To see people relieved from pain and see their happy faces is my prize. But I would not be able to get this without Urgo products."
Urgo Medical are looking forward to hosting and attending a range of events throughout 2022. Visit our events calendar to find events local to you. We're looking forward to seeing you!
Other news
News