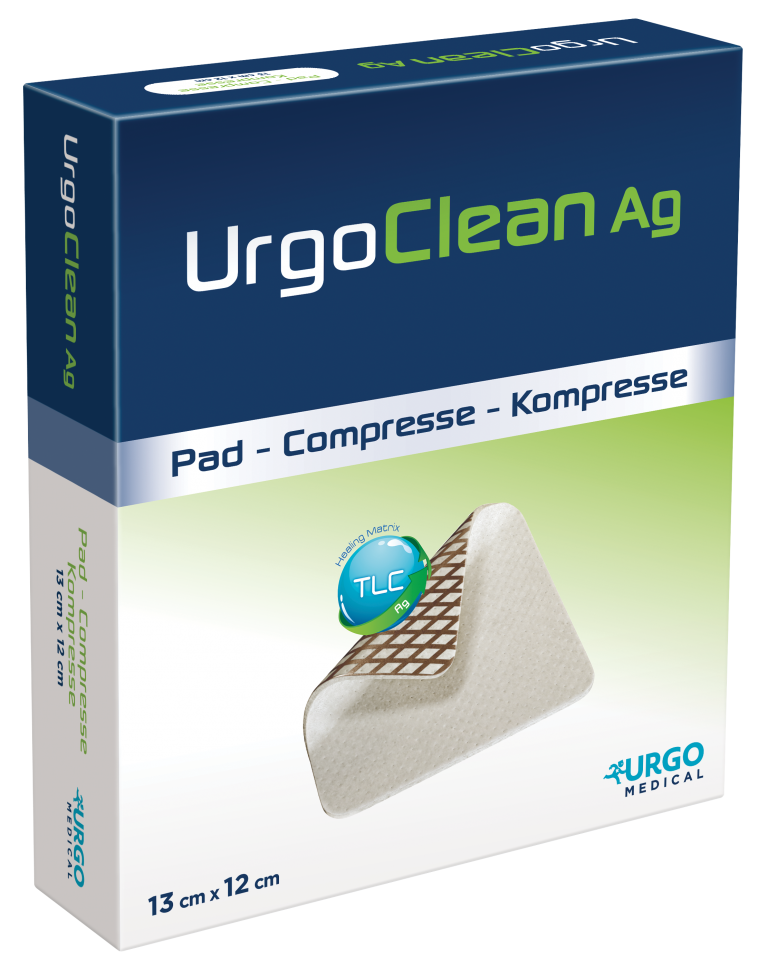 The only anti-biofilm silver dressing that provides complete and continuous cleaning action to the wound
Efficacy proven in real-life study with more than 2000 patients!
Proven antimicrobial efficacy you can trust
Fast action: from 30 minutes on main strains
Works against bacterial strains resistant to
antibiotics (e.g MRSA, VRE)
99.99% efficacy in just 24h
Restores the healing process
Clinically proven complete cleaning action 
UrgoClean Ag provides complete and continuous cleaning action due to its polyabsorbent fibres
75% reduction in the number of wounds with heavy exudate
62.5% reduction of sloughy tissue and wound debris
Continuous cleaning action sustained for up to 7 days
Fast and effective anti-biofilm action
 
The powerful combined cleaning and antimicrobial action destroys, removes biofilms and blocks their reformation for up to 7 days
UrgoClean Ag reduces 99.99% biofilms population in just 24h
The UrgoClean Ag dressing is a sterile, non-woven pad, composed of hydro-desloughing, polyabsorbent cohesive fibres with a high absorption capacity (polyacrylate).
This dressing uses a hot melt process to bond the polyacrylate fibres arranged in a structured manner, parallel to the wound surface, giving UrgoClean Ag its specific absorption and wound residue draining properties, as well as its tensile strength.
The hydro-desloughing pad is coated with a silver-impregnated micro-adherent healing matrix (TLC: Lipido-Colloid Technology). This TLC-Ag matrix provides an antibacterial action and gels easily, aiding drainage of sloughy residue. In addition, it enables easy application and removal of the dressing.
When to use UrgoClean Ag?
All wounds at risk of or with signs of local infection,including:
Leg ulcers, diabetic foot ulcers, pressure ulcers
Burns, abrasions, traumatic wounds,
post-operative wounds
PROPERTIES
In contact with the wound exudate, the TLC-Ag matrix forms a gel, creating a moist environment that promotes wound healing.
Simultaneously, the hydro-desloughing, polyabsorbent polyacrylate fibres absorb excess exudate, forming a gel. These hydro-desloughing fibres bind to the sloughy residues, absorbing and draining them in order to facilitate autolytic debridement.
This binding and drainage of slough by the hydro-desloughing structure of UrgoClean Ag combined with its Silver healing matrix (TLC-Ag) thereby promotes the desloughing phase of sloughy wounds, and aids management of minor bleeding (particularly after mechanical or surgical debridement).
In addition, the Ag+ ions give UrgoClean Ag an antibacterial activity that could help reduce the local bacterial load. The Ag+ ion has broad-spectrum antimicrobial activity, and is particularly effective against Staphylococcus aureus, MRSA, Streptococcus pyogenes and Pseudomonas aeruginosa (pyocyanic bacillus), the microorganisms most commonly implicated in infected wounds. The antibacterial activity of the dressing helps reduce odour caused by microorganisms present in the wound. UrgoClean Ag reduces the bacterial population of the biofilm within 24 hours and for 7 days (tested in vitro on S.aureus and P.aeruginosa).
The dressing is practical for patients, because it can be removed in one piece due to the tensile strength of the hydro-desloughing fibres. The gel formed does not stick to the wound, making it easy to remove the dressing, painlessly or with only minor pain and with little or no damage to healed tissue.
INDICATIONS
UrgoClean Ag is indicated for the treatment of chronic exuding wounds (venous ulcers, pressure ulcers, diabetic foot ulcers) and acute wounds (burns, traumatic wounds, surgical wounds) at risk of or presenting signs of local infection, from the desloughing phase.
Contraindications:
Known sensitivity to silver.
UrgoClean Ag is not suitable for use as a surgical sponge for heavily bleeding wounds.
Do not combine UrgoClean Ag with hydrogen peroxide or organic mercury or hexamidine antiseptics.
Do not leave the dressing in place on the patient during Magnetic Resonance Imaging exams (MRI scan).
INSTRUCTIONS FOR USE
Wound preparation:
Clean the wound with normal saline. In the event of prior use of an antiseptic (except contraindicated antiseptics), rinse the wound carefully with normal saline before applying the dressing.
The use of UrgoClean Ag does not dispense with the need for associated mechanical debridement when required.
During desloughing, the wound may appear to get larger due to gradual elimination of slough.
Dressing application:
Remove the protective tabs.
Apply with the micro-adherent side of UrgoClean Ag in contact with the wound and its edges.
UrgoClean Ag can be cut using sterile scissors to adjust the dressing size to fit the wound if necessary.
If necessary, cover UrgoClean Ag with a secondary dressing suitable for the wound location and level of exudate.
Secure in place with a suitable bandage or tape.
Apply a compression bandage where prescribed.
Dressing changes:
UrgoClean Ag should be changed every 1 to 2 days during the wound desloughing phase, then as often as required (up to 7 days) depending on the exudate volume and the clinical condition of the wound. The maximum treatment duration with UrgoClean Ag is 1 month.
Precautions for use:
Treatment with UrgoClean Ag should be performed under medical supervision.
The use of this dressing does not dispense with the need for appropriate systemic antibacterial treatment for infected wounds, in accordance with local treatment protocols.
The silver-impregnated micro-adherent healing matrix (TLC-Ag) in UrgoClean Ag sticks to latex surgical gloves. It is therefore recommended that the dressing be handled carefully, avoiding any contact with the micro-adherent side, or using sterile tongs.
The concomitant use of other local treatments is not recommended.
Avoid contact with electrodes or conductive gels during electronic measurements, such as EEG or ECG recordings.
Clinicians and healthcare professionals must take into account the fact that data concerning the prolonged and repeated use of a silver dressing, particularly in children and newborn babies, is not very extensively documented.
In the absence of specific clinical data, the use of the UrgoClean Ag dressing during pregnancy or breastfeeding or in newborn or premature babies is not recommended.
UrgoClean Ag must not be used during hyperbaric oxygen chamber therapy without an oxygen mask (risk of combustion due to the presence of fat). This contraindication does not apply for hyperbaric oxygen chamber therapy with an oxygen mask if the oxygen concentration inside the chamber is less than 25% and if UrgoClean Ag is not applied on the area over which the mask is placed.
Sterile individual packaging, for single use. Reuse of a single-use dressing can lead to risks of infection.
Check that the sterility protector is intact before use. Do not use if the packaging is damaged.
Do not re-sterilise.
For disposal, refer to the existing protocol. Discard any unused parts of the dressing.
FORMATS

CLINICAL EVIDENCE
(1) Dalac S., Sigat L., Addala A. et al., Clinical evaluation of a dressing with poly absorbent fibres and a silver matrix for managing chronic wounds at risk of infection: a non comparative trial. J Wound Care, Vol 25, No 9, September 2016.