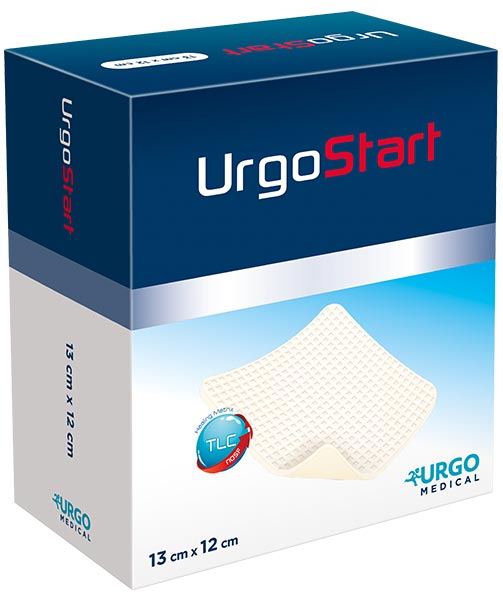 UrgoStart is an absorbent hydrocellular lipido-colloid dressing with a micro-adherent TLC-NOSF matrix, an innovative technology developed by Laboratoires Urgo.
Leg ulcers, diabetic foot ulcers and pressure ulcers take an average of 210 days* to heal.(1)
*CNAM database: leg ulcers: 210 days; pressure ulcers: 223 days; diabetic foot ulcers: comparative data not available.
UrgoStart is a local treatment that reduces the healing time of these types of wounds by an average of 100 days.(5)
PROPERTIES
Efficacy:
Reduction in healing time thanks to its patented TLC-NOSF matrix.(5)
Practicality:
Maintenance of a moist environment that promotes healing
Absorption of exudates and drainage, limiting the risk of maceration.
UrgoStart is a conformable dressing that can be cut to fit the shape of the wound.
The efficacy of TLC-NOSF on the reduction of healing time has been demonstrated in double-blind, randomised controlled clinical studies (2,3,4) and by an analysis of observational studies.(5) The earlier TLC-NOSF treatment is started, the more effective it is.(5)
Finally, UrgoStart is always used as part of a global management approach, along with appropriate etiological treatment.
INDICATIONS
UrgoStart is used in patients with leg ulcers, diabetic foot ulcers and pressure ulcers, from whenever granulation tissue appears until complete healing.
Contraindications:
To prevent any risk of delay in appropriate treatment, UrgoStart is contraindicated in cancerous wounds and in fistular wounds demonstrating deep abscess formation.
Do not use UrgoStart in the event of known sensitivity to the dressing.
INSTRUCTIONS FOR USE
Wound preparation:
Clean the wound using the conventional care protocol.
If an antiseptic has previously been used, rinse the wound carefully with normal saline before applying UrgoStart.
Carefully dry the skin around the wound.
UrgoStart can be cut using sterile scissors to fit the dressing size to the wound if necessary.
Dressing application:
Standard form
Remove the protective tabs.
Apply the micro-adherent side of the UrgoStart dressing in contact with the wound.
Secure the dressing in place with a suitable bandage or tape.
Apply a compression bandage over the dressing where prescribed.
Heel form
The dressing is arrow-shaped. Remove the protective tab.
Position the arrow towards the front of the foot and place the heel in the centre of the micro-adherent side of the dressing.
Attach the back part of the arrow over the Achilles tendon.
Remove the side tabs and carefully apply the side parts of the dressing to either side of the foot.
Secure the dressing in place with a suitable bandage or tape.
Dressing changes:
UrgoStart should be changed every 2 to 4 days on average, and may be left in place for up to 7 days, depending on the exudate volume and the clinical condition of the wound.
The recommended treatment duration is at least 8 weeks.
Precautions for use:
The micro-adherent lipido-colloid mass of UrgoStart sticks to latex surgical gloves. It is therefore recommended that the product be handled carefully, avoiding any contact with the coated surface or using sterile tongs.
If the wound shows signs of significant bacterial colonisation, it is recommended that the bacterial component be treated first before starting treatment with UrgoStart.
In the event of an atypical ulcer demonstrating induration or excessive localised granulation, treatment with UrgoStart should only be started after having verified the absence of any ulcer deterioration, to prevent any delay in diagnosis.
Stinging or even painful sensations have been reported, mainly at the start of treatment, with UrgoStart. These are related to the resumption of the healing process and only warrant suspension of treatment in rare cases.
In the absence of clinical data relative to uncomplicated acute wounds and in the context of Epidermolysis Bullosa, irrespective of duration, the use of UrgoStart is not recommended.
UrgoStart must not be used during hyperbaric oxygen chamber therapy without an oxygen mask (risk of combustion due to the presence of fat). This contraindication does not apply for hyperbaric oxygen chamber therapy with an oxygen mask if the oxygen concentration inside the chamber is less than 25% and if UrgoStart is not applied on the area over which the mask is placed.
Sterile individual packaging, for single use: reuse of a single-use dressing can lead to risks of infection.
Do not re-sterilise the dressing.
Check that the sterility protector is intact before use. Do not use if the packaging is damaged.
CLINICAL EVIDENCE
Report to the French minister responsible for Social Security and the French Parliament concerning the evolution of French National Health Insurance charges and products for 2014. July 2013.
Edmonds M, Lázaro-Martínez JL, Alfayate-García JM, Martini J, Petit JM, Rayman G, Lobmann R, Uccioli L, Sauvadet A, Bohbot S, Kerihuel JC, Piaggesi A. Sucrose octasulfate dressing versus control dressing in patients with neuroischaemic diabetic foot ulcers (Explorer): an international, multicentre, double-blind, randomised, controlled trial. Lancet Diabetes Endocrinol. 2018 Mar;6(3):186-196.
Meaume S, Truchetet F, Cambazard F et al. A randomized, controlled, double-blind prospective trial with a Lipido-Colloid Technology-Nano-OligoSaccharide Factor wound dressing in the local management of venous leg ulcers. Wound Repair Regen. 2012; 20: 4, 500–511.
Meaume S, Dompmartin A, Lazareth I, Sigal M, Truchetet F, Sauvadet A, Bohbot S. Quality of life in patients with leg ulcers: results from CHALLENGE, a double-blind randomized controlled trial. Journal of Wound Care. 2017; 26 (7): 368-379.
Münter KC, Meaume S, Augustin M, Senet P, Kérihuel J.C. The reality of routine practice: a pooled data analysis on chronic wounds treated with TLC-NOSF wound dressings. J Wound Care. 2017 Feb; 26 (Sup2): S4-S15. Erratum in: J Wound Care. 2017 Mar 2; 26(3): 153.